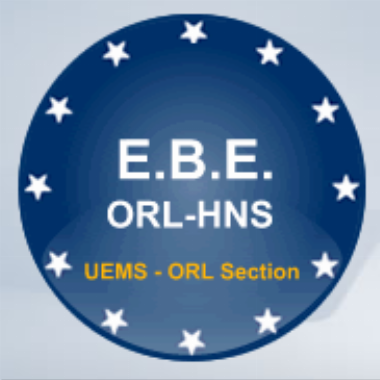 European Board Examination Oto-Rhino-Laryngology-Heand and Neck Surgery
ORAL EXAM (Part II)
The next Part II (oral exam) will be held on the 10th November 2018 in Vienna, Austria. Only candidates who have passed part I will be able to register for this exam.

Registration for this exam is OPEN.
There is a limited number of registrations to 160 candidates, this is done strictly on a "first come, first serve basis". As soon as the number has been reached registrations will close!!

Registration fee is 700 euro. This amount will be divided in two payments: Payment 1, of 500 euro to be entitled to sit the exam and Payment 2 of 200 euro for the completion of the certificate and diploma once the oral exam has been passed successfully.
Bank transfers should cover all transfer costs by the candidate. The amount to be received in the EBEORL account for Payment 1, should be the full 500 euro, otherwise candidates should be asked to pay the difference between the 500 euro and the amount received by the EBEORL-HNS before being allow to sit the exam.
Payment 2 should be satisfied in cash in Vienna at the end of the exam and once the candidate knows that he has been successful.

VENUE FOR THE EXAM IN VIENNA: University of Music and Art in Vienna. Anton von Webern Platz 1, 1030 Vienna. See pdf presentation for more information.
Location in google map

In closed cooperation with the Austrian Academy of Physicians. We would like to thank the Austrian Academy of Physicians for their support and collaboration with the European Board Exam in ORL and the development of our Part II (oral) exams.