Wien-Donaustadt,
Österreich
Bruno-Kreisky-Platz 1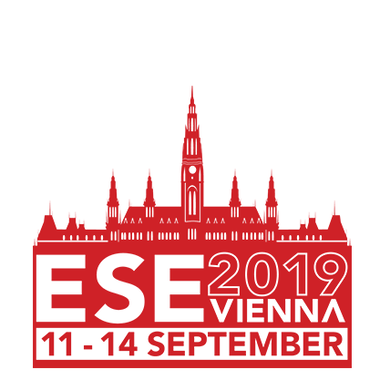 19. Biennale ESE Kongress
19th Biennial ESE Congress - Vienna, Austria
12–14 September 2019
(pre-congress courses 11th September 2019)
The Executive Board of the ESE and the Austrian Society for Endodontology (OEGEndo) are delighted to invite you to Vienna for this world-leading conference on Endodontology. ESE congresses are well known as exceptional meetings that combine the clinical science and practice of Endodontics with the underpinning biological and materials sciences.
ESE Vienna 2019 will take place at the Austria Center Vienna, Vienna, Austria. The venue is a modern, purpose-built congress centre that offers several large auditoria perfect for the scientific programme. It also has several smaller meeting rooms, as well as a large exhibition space for sponsors and exhibitors. ESE Vienna 2019 takes place from 12-14 September 2019 with pre-congress courses being held on 11th September 2019 – please reserve these days in your diary to be part of this world-leading congress on Endodontology.
The ESE and local organizing committee are working hard on the congress, the theme of which is – "Vienna calling – experience the sound of Endodontology". With the help of surveys conducted with previous congress participants, society members, and our industry partners we are planning an exciting programme that will offer the latest clinical updates as well as the latest findings in the clinical sciences associated with Endodontology. The focus of the scientific programme will be "The future of Endodontics".
The programme includes a dedicated time for participants to visit the Exhibition Hall and meet with Sponsors and Exhibitors.
We are confident ESE Vienna 2019 will be a memorable and enjoyable meeting and we look forward to seeing you in Vienna during September 2019!
Professor Dag Ørstavik
Congress President and President of the ESE
Vienna 2019 Congress Overview
Your attendance at the 2019 European Society of Endodontology biennial will provide a fantastic opportunity for you to meet friends and colleagues in a spectacular city and at a conference venue of the highest international standard. The Congress will provide an exceptional Scientific Programme together with an exciting social programme that will allow participants and accompanying persons to enjoy all Vienna has to offer – history, tradition, design, architecture, good food, and much more ….. !
The Congress is aimed at the entire dental team, particularly:
ESE specialist, certified, postgraduate and guest members;
ESE ordinary members (affiliated to full member national societies);
Endodontists, General Dental Practitioners, Postgraduate Students, Clinical Academics and Scientists, Hospital-based dentists; and
our partners from the dental industry.

The ESE wants to attract not only those from Europe but also from the rest of the world – indeed, anyone with an interest in Endodontology and the associated biological, biomaterial and clinical sciences.
The Scientific Programme will have:

An extensive range of pre-congress courses on 11th September 2019;
Two parallel sessions in the main programme with invited world-leading speakers covering advanced clinical procedures in Endodontics; one hall will be devoted to the theme of the congress – "The future of Endodontics";
A third hall devoted to symposia on controversial topics with more time for discussion and debate;
A fourth hall devoted to sponsored lectures;
Presentations for the Wladimir Adlivankine European Society of Endodontology Research Prize and Education Prize (following acceptance of abstracts);
Original Scientific Research posters and selected oral presentations (following acceptance of abstracts);
Clinical Posters and selected oral presentations (following acceptance of abstracts);
General Endodontic posters (following acceptance of abstracts);
Oral presentations on freely chosen subjects (following acceptance of abstracts).
Social events will include:

The Opening Ceremony on the evening of Wednesday, 11th September, 2019 followed by the Welcome Reception in the exhibition area;
ESE Reception on the evening of Thursday, 12th September, 2019;
Gala Dinner on the evening of Friday, 13th September, 2019.

A large trade exhibition with the latest new equipment, instruments and materials will be held from 16:00 Wednesday, 11th September, 2019 to 16:00 Saturday, 14th September, 2019.
Tours and excursions for accompanying persons and participants before, during and after the congress are available and information will be provided during congress.