Artikel
EAACI Congress: Exclusive interview with Executive Committee President Antonella Muraro
EAACI President Antonella Muraro in an exclusive interview about this and next year's hot topics of the European Allergic Congress.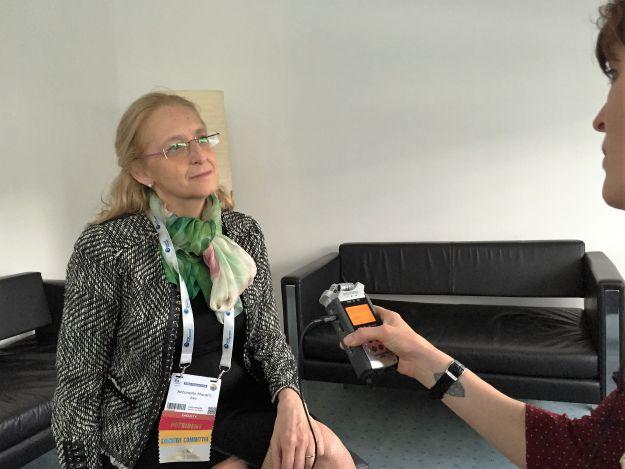 Thank you for your patience to give us an interview, could you give us a brief overview over the figures of the attendees this year, how many people from how many nations will be here?
Antonella Muraro: We are able to welcome 8.000 delegates from 44 countries this year
What is new, what are the main topics this year?
Antonella Muraro: The main goal is to present the resent findings on the several manifestations of allergic diseases: food allergic, allergic rhinitis, asthma and clinical immunology, but also to keep a stronger community between allergologists and patient organizations, in order to facilitate interactions between the scientific word and the social communities.
How important is this networking for those experts?
Antonella Muraro: It is very important, as we can translate our knowledge in a way which makes it accessible to patients in the daily practice of our clinical allergist.
But there aren't any patients here at this congress?
Antonella Muraro: No, we have a patient organization committee and we have patient representatives here. We have 29 patient organizations represented in our patient committee.
So you are celebrating 60 years anniversary of your organization?
Antonella Muraro: Yes, our organization has been established in 1956 in Florence (ITA), with congresses we started 3 years later, we were a small group back then. Now we count about 10.000 members.
The congress was now the second time in Vienna and will take place in Helsinki next year. What will be the big topics there?
Antonella Muraro: The big topic will be "Roadmap to prevention and healthy living" as the concept is a shift from treating the disease to caring for the patient in an holistic approach. Caring for the patient, when he/she has a disease, clinical manifestations, but also in his daily life in school, in the community. The goal is facilitating and improving his quality of daily life.
Nowadays here in Austria we have the feeling that doctors are only responsible for the clinical diagnosis, but for your daily life you have to go to a patient organization. So this will be next year's topic?
Antonella Muraro: This is already a topic this year. We give this concept a try trough the patient organization committee, which we established three years ago. We believe that this type of alliance with the patient will result in a better patient management and more successful clinical doctors. Next year the moto is to promote good health style.
Where are the research hotspots of allergic diseases worldwide?
Antonella Muraro: Mainly in Europe, they are based in several centers across European countries, each country has a center for excellence for research. The top five countries are Austria, Germany, Switzerland, United Kingdom and France. It depends on the topic, e.g. for upper airway diseases you have to go to Germany or Belgium. For food allergy for example to Spain, Italy or Germany. For clinical allergy, or for a basic research in food allergy I would recommend Austria and again Germany, for Asthma United Kingdom, Germany and France.
Mrs. Antonella Muraro, thanks a lot for your time and this interview.
Antonella Muraro: You're welcome.
More about the EAACI2016:
http://www.credoweb.at/eaaci-congress-2016-event-486.html