Wien-Donaustadt,
Österreich
Bruno Kreisky Platz 1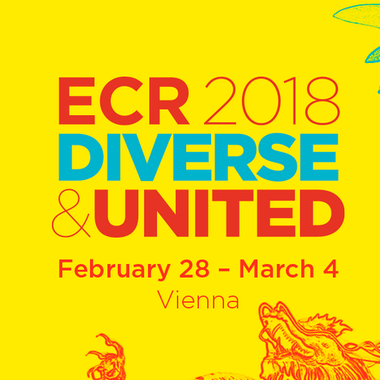 European Congress of Radiology - ECR
Dear Colleagues & Friends,
I am happy to introduce to you the outstanding scientific programme for ECR 2018. Carefully selected by the Programme Planning Committee, the programme offers something for everybody; from basic knowledge and hands-on workshops for our younger colleagues to innovations throughout all subspecialties and the most recent and fascinating research. Special features in hybrid imaging and interventional radiology, new session formats in a relaxed atmosphere, like 'Coffee & Talk' and 'My Thesis in 3 Minutes', and a dedicated radiographers' programme round off an exceptionally all-encompassing agenda.

I would like to thank all abstract submitters; it's also your work that helps us ensure the high quality of our programme.

Enjoy the very best in science and education at ECR 2018!
Prof. Bernd Hamm
ESR President
NEW at ECR 2018
'My Thesis in 3 Minutes' – MyT3
'My Thesis in 3 Minutes' (MyT3) is a special format for residents and young radiologists who would like to present their scientific thesis (MD or PhD) results as a first author very briefly in a very special and entertaining session.
Coffee & Talk (open forum) – C
The new and attractive 'Coffee & Talk' session format will take place in one of the stylish lounges at the congress venue providing an informal atmosphere. Participants are invited to stop by and contribute to the informal discussions while sipping their coffee or tea.
Hands-on Workshops – HoW
At ECR 2018 two series of educational 'Hands-on Workshops' will take place, dealing with the topics 'MRI in the Prostate' and 'Ultrasound Elastography'. The number of participants at each session is restricted to 30. Attendance places will be allocated on a first-come, first-served basis.
Interventional Radiology at the Cube
Enter the captivating world of Interventional Radiology (IR) at ECR 2018!
Artificial Intelligence
More information coming soon
ECR in General
The ECR is an international meeting and one of the leading events in radiology.
The ECR is one of the largest medical meetings in Europe and the second-largest radiological meeting in the world.
The ECR is held annually in early March.
The ECR attendees span all areas of the radiology arena including: radiology professionals, radiographers, physicists, industry representatives, and press reporters for both the medical and consumer press.
The next ECR will be held in Vienna, Austria from February 28 – March 4, 2018. The congress venue's address is: Austria Center Vienna, Bruno-Kreisky-Platz 1, 1220 Vienna, Austria
Congress Language
English
CME Accreditation
Each ECR delegate has access to confirmation of all activities attended (CME confirmation and record of attendance).